I have long been fascinated by different peoples computing environments. Somehow I believe it shows a little glimpse into someone's mind. With that in mind, I thought it might be interesting to other people as well so I polled a group of my friends who are some of the most influential computing buddies I have. Here is what they sent:
Name: A.W.
What do you do?:
I'm a NetApp Wrangler and Windows Sysadmin by trade. Looking to add storage admin as well (EMC/Cisco).
Tell me about your DE?:
My main workstation is my MacBook. I identify with this machine the most and my desktop environments tend to show my personality and style choices. I like IBM style green on black terminals which I have been addicted to ever since I installed my first AIX machine (a POWERStation 320 that I got for free from my ex-girlfriend's office). The desktop is a stylized Sylvanas the Banshee Queen of the Undead from World of Warcraft. I don't currently play the game but I'm into zombies and undead stuff as art and game play (and hot pale powerful gothy women). My Windows 7 machine is a gaming machine and also used to do my work as it's the best machine to log into our VPN with. It's an Alienware with the Phobos Red theme and the LEDs are currently all set to red with a pulsating skull on the front. It's kind of Darth Vader. Alienware does nice themes and some of the nicest pre-installs I've ever seen (yes, the first time I didn't wipe the OS that came with the system)… It has no shovelware. I've owned the Powermac G5 Quad for years and bought it to be the last and best PowerPC machine. Eventually I was no longer using it as I supplanted its use with my MBP which I can carry all over the house and use wireless N with. Wanting to breathe new life into it, it became a PPC Linux test box and I've found the best environment with Fedora Core 17 Beefy Miracle. I've replaced the desktop graphic with something nicer than the default fireworks that is still Fedora themed. The Firefox window is a shot of my home file server control panel. It's a red aluminum cased custom AMD A4 build with 8 GB of RAM, 6 x 2TB Seagates (SATA3)ZFS RAID6 and a memory stick to hold FREENAS 8.0.4 x64 MULTIMEDIA. Since it's red I named it after my favorite Motts discontinued beverage: Beefamato.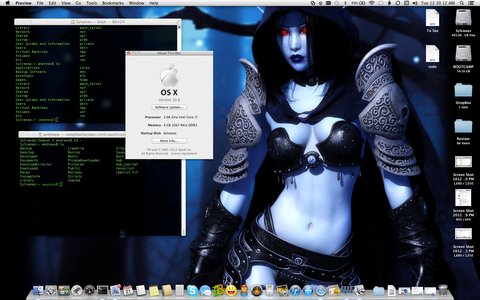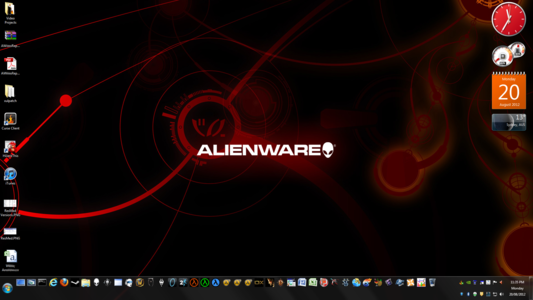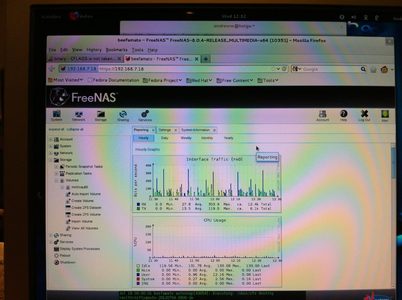 Name: D.C.
What do you do?:
Programmer and professional Bearded Curmudgeon.
Tell me about your DE?:
vim is my IDE, and I have a window open full screen, split into up to eight or so buffers on my main screen. On a second screen I have terminals for running my code's tests, viewing logs, and for talking to colleagues who work all over the world – my team is split between Utah, the UK, Moscow, and anywhere else that we can find good people. My windows are all slightly transparent when inactive, as it makes it easier to find stuff if I can see it when it's behind something else. I do, of course, use focus-follows-pointer and click to bring to front, but almost all my navigation is via the keyboard. When I do need to move the pointer,I use a trackball. Desktop? Yeah, there's one under there somewhere, but I hardly ever see it. It's a plain neutral colour with no icons on it so it doesn't interfere with window transparency.


Name: J.B.
What do you do?:
Senior Software Engineer working on cloud managed digital media systems for the retail environment.
Tell me about your DE?:
Windows 7. I run Linux on my desktop, but I never felt like having the distribution to work to change what's on my laptop, and I use the laptop the vast majority of the time.


Name: J.F.
What do you do?:
Solutions Architect, Enterprise Services, HP.
Tell me about your DE?:
I alternate between a black desktop and this photo of my favorite car. A friend collects vintage gas station equipment and provided the setting when I took this picture. I try to keep my desktop clean and maintain a folder called "desktop-stuff" for all the junk that would normally accumulate.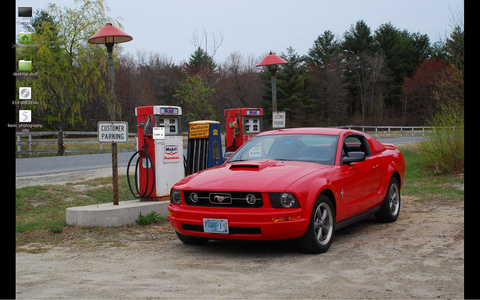 Name: J.S.
What do you do?:
Retired network engineer now part time Asterisk/VOIP and wireless consultant.
Tell me about your DE?:
Windows 7 for the most part, but I have a Ubuntu 12 VM running X11RDP so I use Remote Desktop rather than VNC. That's where I do the majority of my compiling & code editing in Xemacs.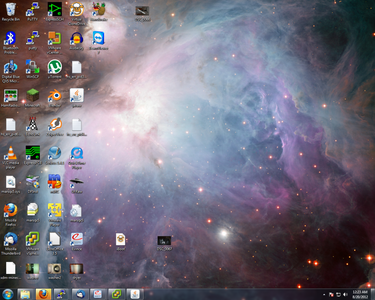 Name: K.H.
What do you do?:
I'm a senior engineer on the Enterprise Infrastructure Team for a state government. I wrangle Tivoli Storage Manager, VMWARE, DNS, Linux/Apache/MySQL/PHP, legacy and modern UNIX/Linux, SANs, some LAN/WAN, provide support to the CISO in all areas of infosec as needed, and function as troubleshooter of last resort for any given problem.
Tell me about your DE?:
Windows 7 would not be my first choice, but since I have to use Windows-only apps in the execution of my duties, it is the best for the job. I run two monitors, which have different resolutions, but this is the best that can be managed on a restricted budget. Ideally there would be two 23″ monitors, but if we're dealing in ideals, I would have an Alienware laptop instead of a Dell. The theme is a transparent space-based theme courtesy of NASA, but the background is an image from Stickman featuring some of my favorite tools. Rather than hide the start bar, I leave it up all the time for quick access.


Name: L.F.
What do you do?:
I.T.Manager and Senior Linux Admin, LAMP developer, scripter and all miscellaneous duties as assigned.
Tell me about your DE?:
Mint #newest_version running my usual slew of apps and xterms on 2 dual monitor machines. Dark wallpaper is currently a "black leather". I like dark unobtrusive wallpapers best to avoid distraction. Windows running in a vm, where it belongs. Just can't have enough desktop real estate you know! And, yes, that's mutt for email – best client out there.


Name: M.H.
What do you do?:
I'm an I/T support specialist and dispatcher.
Tell me about your DE?:
I have quite a number of different desktops really. In fact I always have had. When they get cluttered I throw things into folders and eventually archive them if I don't want to delete them. (My folder structures in my home directories is horrible.) Each system I use has a different purpose. The desktop here is my home daily driver. Multiple screens often dictate what wallpaper I use though frustratingly it's hard to span wallpaper across multiple monitors. At home I usually use single displays but at the office I use four screens total. Working on adding another one. 😉 As for colors I prefer a darker theme with light lettering. For terminals I prefer a black background with amber text or as close as I can get using a color picker. Green if I don't have amber as a choice. Translucent terminals look nice initially but are a pain for me to focus on.