Some days being a reviewer is a lot cooler than others. They are always nice when I get surprise packages from
Kingpin
though…
A few weeks ago (I am horribly backlogged on things I want to blog about) Kingpin sent me a nice surprise package. In it was a couple of their new Vivi Nova tanks, a large Vivi Nova, a spare replacement tank tube and one of their eGo pass through batteries and a couple extra drip tips. (Free for the purpose of review – I hate disclaimers).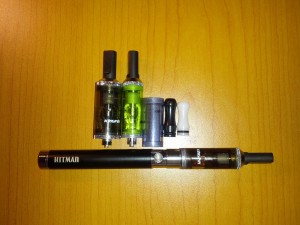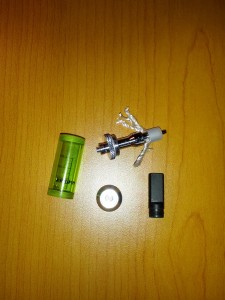 Oddly enough, I really didn't expect much from this. You see I have used eGo style batteries in the past, and I have also used nova style tanks. I like the eGo style batteries enough, but I am *not* a fan of vivi nova tanks. Every single one I have tried and tested had problems after a while. They would work fine for a spell and then they would get burney tasting and / or start gurgling, and *nothing* irritates me as much as flooding / gurgling tanks. So, it was actually sort of fortuitous that I have been so blasted busy these last few weeks and I had been sort of forced into *really* giving these a run for their money.
Here's the interesting part. I have literally had no problems with any of this gear the entire time I have had it. I thought to myself, something must be *really* different here. As it turns out, there is. It's quality control, plain and simple. It has to be. If you look at the products that Kingpin carries, you'll come to the conclusion that they *seem* to be a little behind most other vendors. Some people I have talked with think their prices are a little on the high end as well. Since I have had the chance to actually look at and test these products first hand, I beg to differ. These products, which are things the vast majority of vaping people should be familiar with, are made with impeccable quality. The eGo battery is a little different than most. It's casing is harder than most with that rubberized coating. This is reminiscent of some high end expensive kit from Volcano. Very durable, cleans easily, fires every time. The novas are where it's at though. After I used them long enough to realize they are way different than any others I have tried, I started giving them a lot closer look. Other than the fact that they have a spring loaded 510 connection (completely brilliant and ALL 510s should be this way), I noticed probably the most important thing. All the center posts are completely straight and correctly aligned. Every single other nova style tank I have has a misaligned center post. This means that the rubber grommet doesn't seat just right at the top and eventually you get flooding and whatever other issues, but none of that here. As for the no-burney taste, I can only chalk that up to perhaps just having better quality silica and coils. Again, all quality control.
I did mention that they included a couple extra drip tips as well (good price btw). These are your standard plastic tips and work just as you would expect, and I am pretty sure they were included because of the drip tips that came included with the novas. They are flat sided whistle tips. Although tips like these are a little position dependent, I actually found them quite comfortable to use.
Now I did get this all separate and loose, however, most people would go for the kit that includes all this goodness. That would be Kingpin's Hitman EV Passthrough Vivi Kit, which comes with 2 650mAh passthrough eGo batteries (with that snazzy Hitman logo) + trim rings, a usb charging cable. 2 nova tanks, and 2 extra nova heads. All that for a very reasonable $48.95, and you can upgrade the batteries during order to 900mAh for a measly $2 more. Again, let me restate this is really good equipment. I have literally been pushing a single one of these batteries hard for the past 3 weeks until it gets HOT to the touch (I haven't been nice to it at all). The battery is great and the combo together is just fantastic! It'd be a great starter kit or even a nice reliable and good working backup kit to have.