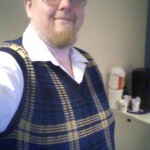 For quite sometime, as a little morale booster, we have been having Hawaiian Shirt Fridays at work. It's fun and I, personally like Hawaiian shirts. The gaudier the better.
Well, recently, it has been decided that in lieu of the warmer weather, perhaps we should temporarily switch to Ugly Sweater Fridays instead. What you see included in this post is my first attempt. I asked my wife the day before to run to the thrift store and get me the ugliest sweater she could find.
She really deserves the credit here, although I did wear it proudly. I was *easily* given the title for the most hideous sweater. We'll have to see what happens next week, but I believe this will be hard to beat unless someone finds one of those light-up Rudolph holiday sweaters.
Let's see the pics of YOUR ugly sweaters!