I just wanted to write a quick note about gparted. This has got to be one of the most handy pieces of software on the planet.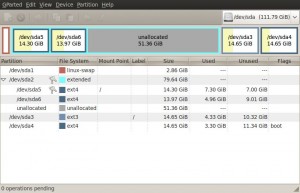 As you know, I have been doing a lot of different distribution testing on my test laptop lately. Well, one thing that didn't occur to me until too late was that I can only have 4 primary partitions on a drive. Yes, on the 5th OS I had one of those "DOH!" moments 🙂
livecd of Ubuntu because I cannot move around a partition I am actively using. I moved 2 primary partitions to the end of my hard drive's free space. I then extended the size of my extended partition to encompass all the free space on my hard drive. With gparted, this was a simple drag and click procedure.
20 minutes later (hey, 30gb data to move around) and I was set with a pile of free space in my extended partition so I could continue doing installs 🙂