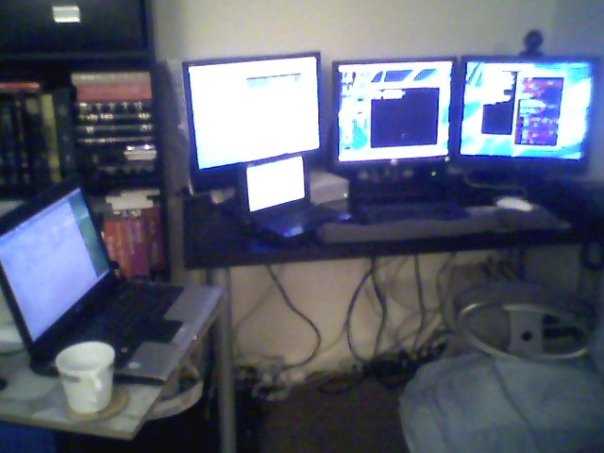 So I sold my Mac Mini and my old Linux desktop machine burns up (cpu temp over 100 celcius). I need a new computer right? Well, the Best Buy run didn't work out so well, so I started looking at other local stores for somewhere that had a decent laptop / desktop replacement that appeared to be, or mostly to be Linux compatible.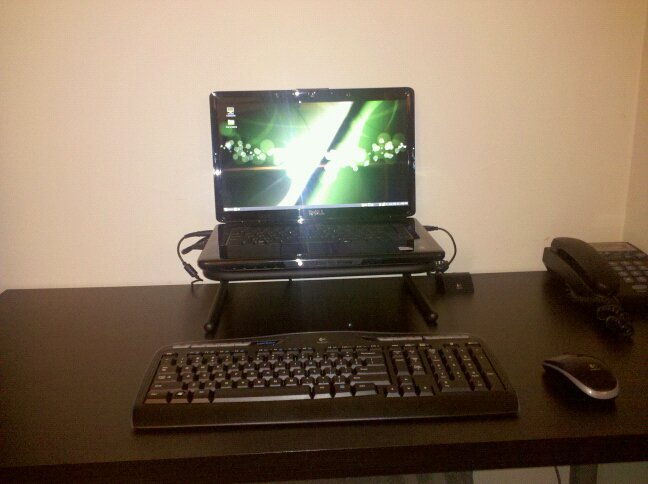 What I found, while browsing through store ads online was that Staples had a Dell Inspiron 15 for sale for just over $500. This machine sports a dual core proc at 2.2ghz, 15.6 inch widescreen with the Intel GMA 4500, 350gb hdd, 4gb ram and a Dell wireless card (rebadged Broadcom). The best part was I actually knew a friend who ordered 3 of these and had Ubuntu on at least one of them. Viola! Instant Linux Laptop!
Of course, these things are never that easy…
I ran out and picked one of these up and *just* as I was about to press enter to start formatting the drive, I notice that there is 1 dead pix3el in the middle right-hand side of the screen. Back it goes and I grab another (this one sans dead pixel). Mint 8 looks beautiful on this machine as I install it. Everything is peaches until I go for configuring the wireless. Now I am intending on using this machine as a desktop replacement, hooked to ethernet, but hey, if I have wireless, it should work. Right?
Well, I had a dandy of a time getting things to go like they are supposed to. Wireless on this laptop seems to be added under the "Hardware Drivers" or "Restricted Drivers" modules. What popped up was an STA driver and another that I cannot seem to remember at the moment. I, unfortunately, did NOT chose the STA driver. This started the maddening process where I fiddled with things and cussed at my computer for HOURS and could not get the wireless to work. After obtaining a sore throat that way, I decided to try the STA drivers. Well, once you installed the other drivers, whether or not you KEEP them installed, you CANNOT get the STA drivers installed. Each install failed, frustrating me even further. Eventually, I just did a clean reinstall and picked the STA drivers. Wireless worked perfectly after that. 🙂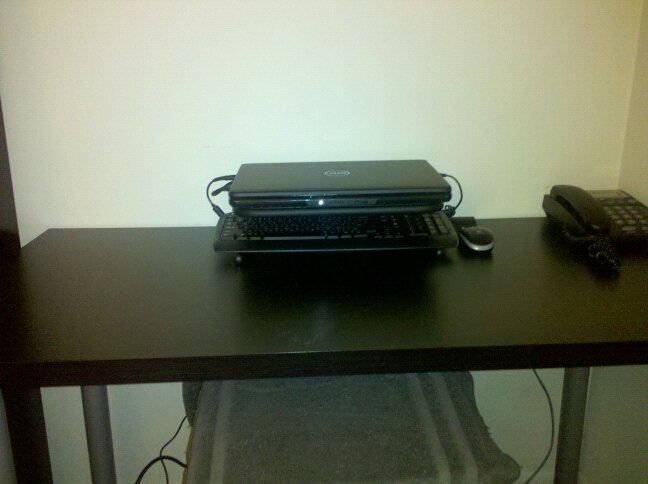 After all that, it was time to put my desk back together with the new laptop. I really like the clean look of the desk now. Not as much screen realestate, but it's tidy looking and feeling. I also purchased a Logitech wireless kb/mouse combo and I absolutely love it. And did I mention that this new machine absolutely smokes the previous two combined? 🙂
I named this monster Yeti, which is a re-use of the name of my Mac Mini. This machine, however, is black, so I guess it really is a Yeti of a different color. Hey, who says Yeti have to be white anyhow right?