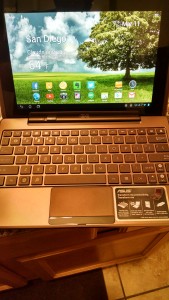 I was on a trip to visit my uncle recently and while there and talking shop (he's a techie kinda fellow) he started telling me about this old tablet he had that I could have if I could get it fixed. It seems he purchased a tablet years ago, didn't like it, then the os became corrupt and he just sort of shelved it, probably some 5 or 6 years ago and got himself an iPad instead.
He dug this thing out and it happened to be an Asus Eee Pad Transformer TF101, a tablet that I actually had long ago myself. This one was dirty and no charge and badly in need of a fresh reimage of the OS but after that, it's a perfectly functioning, practically brand new (hardly been used) TF101, now updated to the latest OTA update available for it, 4.0.3 (Ice Cream Sandwich).
So now I have this new old stock tablet and I have decided to get some use out of it (came from my uncle so it holds some sentimental value) and I actually kind of dig it. Of course it is no rocket ship compared to modern android devices but it does chug along and the 4.0.3 OS is still viable in the android store so some apps are still current. I can get my mail and social media and watch videos, listen to music and the like just fine (even netflix). What I like most about it right now is using it as a portable terminal (juice ssh). The included keyboard dock makes that particularly nice.
I have been wondering, though, what else I can do with such a device and am seeking opinions and experiences. I know there are several server suites available for android. I could use it hooked to an external USB drive for a file server or web server, etc.. Perhaps I could somehow shoehorn an actual Linux as a native OS on this thing. Then, there is the possibility of putting custom Android ROMs on it – I think there is one called KATKIT that people are having great success with. Never having installed a custom ROM before on android I am a little hesitant and don't want to brick the machine. So, what do you think? What should I try first?